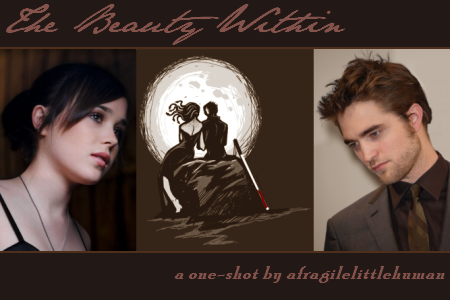 The Beauty Within on FFn
The Beauty Within on Twilighted
The Beauty Within
began with a one-shot I wrote for erikasbuddy for Christmas 2009. She sent a picture (the one in the middle of the banner) and challenged me to write a story featuring a blind Edward.
The complete history behind the beginning of The Beauty Within
Going to his brother Jasper's company Christmas party, Edward hopes to spend time with the employee he's admired from afar for months. Will his blindness keep her away, or will she find it allows him to see her in another way? AH/AU/OOC - ExB - Rated M
The story has now expanded to include two more chapters:
"This Year's Love" was originally written as part of MsKathy's Haiti compilation. In it, Edward and Bella spend their first New Year's Eve together at the Cullen's annual gathering.
"Loosen My Lips" was written for Valentine's Day 2010, and, in it, Edward and Bella decide that it's time to completely given themselves to each other...only Edward has a little secret.
Each chapter revolves around a holiday. The new holiday to get a TBW chapter? July 4th 2010.
The response to
The Beauty Within
has been amazing. I am continually touched by the number of people who love this story.
The Perv Pack's Smut Shack
recommended TBW as part of their weekly roundtable
. Thank you all so much!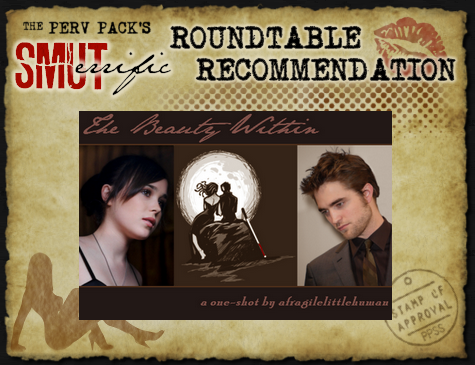 TBW was also
recommended by The Lemon Sisters
in their first Peach Grove post.
TBW was also nominated for Best Kiss in the
1st Golden Lemon Awards
.
Playlist
Chapter 1: The Beauty Within - "
40 Miles from the Sun
" (Bush)
Chapter 2: This Year's Love - "
This Year's Love
" (David Gray)
Chapter 3: Loosen My Lips - "
Come On Get Higher
" (Matt Nathanson)